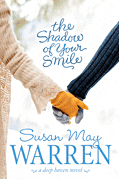 Buried memories always seem to float to the surface struggling to be acknowledged.
Noelle has come to a crossroad in her life. She is quite unsure of the pending outcome of her decisions.
Eli in his frozen icehouse haven that at times brought loneliness and thoughts of his present struggles, he quietly wonders what the future holds.
When an accident leaves Noelle without recall of the past 25 years of her marriage and life with Eli, her family struggles to cope as Noelle attempts to regain the life that was taken from her. Despite overwhelming odds is it possible to recapture what was once valid or will the past be buried forever in the snowy backdrop of Deep Haven?
Envy, heartbreak, pain and romance blend well to create this touching novel. Character development was strong, dialogue was easy to keep up with, and here at the start of summer I could just feel the snow and ice crunching under my boots and it was refreshing! I have read novels similar to this one in storyline before but was surprised at how it held my attention throughout as I connected with the characters and heard their conversations and felt what they did. I found the overall message to be inspiring and the novel challenged my faith. I would recommend this entertaining novel to others.