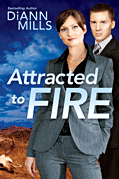 Sometimes your friends are not who you think they are.
Ash and Meghan, are but two Special Agents assigned to keep the Vice President's daughter Lindsay out of trouble. Lindsay has some questionable issues and is trying to get her life together. Her parents have struggled to maintain control over their daughter, but knowing Lindsay could be dangerous. Lindsay's sister is a total opposite of her, instilling jealousy and insecurity, which does not help Lindsay's shortcomings. Someone is trying to eliminate Lindsay and her family, and with death all around them who will be next?
Romance, action, suspense and drama highlight this interesting read. It took me awhile to be captured into the storyline, but once I connected with the characters and what was happening in the novel it soon became a very fast paced and promising read. This is the first suspense non western book I have read from the author and it won't be the last. Dialogue seemed real and characters were personable. Twists and turns, high action and excellent ending were entertaining and I will recommend this book to others.