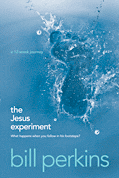 What would it take to become more like Jesus?
Following a 12 week course this book gives guidelines to the some of the following topics: how to follow Jesus in prayer, procrastination, Jesus loved difficult people, dealing with temptation and how to break the cycle, what Jesus said, how he must have felt and the temptations he faced and so many more! The book also contains the stories and experiences of others. I especially loved "A Christmas Story".
Before I started reading The Jesus Experiment I admit I did not know what the book would entail, but upon reading was pleasantly surprised as to how the book could change a person's thinking. Especially helpful for me was what Jesus did, thought and felt and the opinions of the author and realized how my shortcomings can affect my life and those around me. Many inspiring stories are written (the author's included) that can be inspirations to us all. Well written, well done, highly recommend and a must for every Christian library! I was inspired and challenged in my faith.