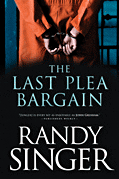 Caleb Tate, defense attorney, becomes a suspect in his wife's murder. He believes he is innocent and is confident that her killer will be found.
Jamie Brock, assistant DA, whose mother was killed long ago by a convicted murderer seeks restitution for the senseless act. Her father lies in a bed suffering from a stroke and she promises to obtain justice no matter the cost.
Mace James, attorney to the convicted murderer of Jamie's mom, has seen much from the other side of the bars, but will it be enough to spare the life of another?
Highly entertaining this is by far the best courtroom and attorney drama/suspense I have read thus far. Believable characters, new and crisp storyline and a plot that promises many twists, turns and surprises with absolutely no dull parts! I was held captive by this fast paced thriller and could not put down the book. Very well written! I found it to be a faith challenging read and will be recommending this book to others.