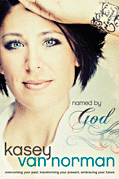 What does it truly mean to be named by God?
The author tells of the struggles she has overcome, the mountains she has climbed, and what she has endured to get there. She offers solid advice to readers on how to obtain love and happiness while dealing with the battles within and obstacles on the outside threatening to prevent us from becoming the person God has intended us to be. The target audience is women. Bible passages and stories are highlighted throughout this book that have much meaning to the material being presented and discussed.
I feel there is something in this inspiring and faith challenging book for every woman. I found myself within the pages about my challenges as a Christian, and know I will be able to apply some of the principles the author has discussed. I learned alot and appreciate the author's style of writing, compassionate and graceful, and thoroughly enjoyed spending the time devouring this helpful, truthful and down to earth read. Highly recommend this well written nonfiction book! 5 Stars!!!! Get to know yourself and others the way that God knows you... by name!