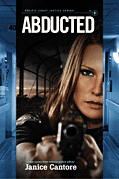 Always striving to be one step ahead of the criminals, the Las Playas police force sometimes find keeping the streets safe can be a challenging feat indeed.
Carly Edwards is in a complicated relationship with ex husband Nick who cannot decide what part he has in the outcome of their situation.
Carly's police officer partner Joe King loves being a dad to four month old AJ. When his wife Christy is admitted into the hospital AJ goes missing. Set on high alert time is critical and the danger is mounting. Will AJ be saved in time?
Abducted is like a realistic police action drama movie but on the written page. With never a dull moment this book offers lots of twists, turns and surprises to delight and satisfy action and intrigue fans. Kept me entertained while turning the pages, and was highly suspenseful and tense until the ending. This well written hard to put down book sports well developed and engaging characters, smooth flowing plot and easy to follow dialogue. Although it is part of a series the book can stand on its own without reading the first one. I will recommend this novel to others. 4.5 stars. Thanks to Tyndale House Publishers for providing me with a complimentary copy for my review.