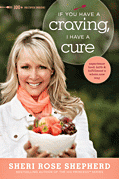 Quick to read and forever to enjoy is how I would describe "If you have a craving, I have a cure"!
This book contains chapters ie: Craving more energy, Craving some spice in your life, Craving healthy food to satisfy your children, Craving an adventure and so many more satisfying and worthwhile chapters along with many recipes. Includes Power up with Prayer devotions and New Life Recipes that incorporates suggestions that relate to the chapters that you can apply to your life to enhance the quality. So many healthy yummy recipes, bible verses and reflection fill this worthwhile, creative and inspiring book.
I always look to the author to provide nourishing food recipes that I can feel good about serving my family. Over the Christmas holidays I prepared Homemade Cranberry Sauce and it was a huge hit, many compliments! Other pages were dog eared with plans to introduce into our meals starting this month. The overall message of this book is inspiring, entertaining and faith challenging. I will highly recommend this book to others and especially to those who are looking for new healthy recipes intermingled with faith to start the New Year and beyond. I received a complimentary copy from Tyndale House Publishers for this blog tour.
Sheri Rose Shepherd
Sheri Rose Shepherd is an award-winning author, Bible life coach, and humorist with over one million books sold. Her life experiences help her identify with almost any woman's battle. She grew up in a broken home and was severely overweight as a teen; she also experienced depression, dyslexia, and an eating disorder. Through God's strength, Sheri Rose has become a bestselling author and popular speaker at events nationwide, including Women of Joy and Extraordinary Women. Her weekly video devotions will be featured on Bible Gateway beginning in 2013.