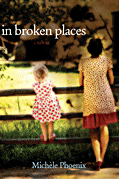 Sometimes worthwhile blessings come in tiny measurements.
Shelby enroute to Germany begins a new life with relatives to pursue a teaching career. She longs to escape the life in her past, the hurt and the haunting pain of impossibilities. Trey, Shelby's brother who creates art with food is a lighted reality in the shattered darkness. Shelby has been named guardian for 4 yr old Shayla, a child who hold secrets, as together they both discover challenges as well as joys can lie ahead.
Heartbreak, uncertainty, humor, love and reality pepper this unforgettable and hard to put down book. Included in the storyline are flashbacks and glimses into the abusive life that surrounded Shelby and Trey bringing their characters full circle. I found this book brought emotions to life for me as the characters took on meaningful and easy to relate to status. Very descriptive scenery and smooth flowing plot with absolutely no dull or broken parts. Enjoyed every minute spent in this faith challenging and realistic read. Very well written and I will recommend this book to others and especially to those who cope with challenging memories. I received a complimentary copy from Tyndale House Publishers for my review.
Born in France to an American mother and a Canadian father, Michele Phoenix is an international writer with multi-cultural sensitivities. A graduate of Wheaton College, she taught writing, music, and theater at the boarding school for missionaries' children she attended as a teenager. She currently works for Global Outreach Mission as an advocate for Third Culture Kids, helping them transition back into North American culture and educating stateside churches and missions about the special needs of this people group.
Michele lives in Wheaton, Illinois.
Visit michelephoenix.com for more information.