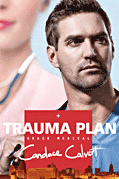 Every life has it's own light and it's own darkness and contains secrets hidden deep.

Alamo Grace Hospital nestled in the tiny corner within the state of Texas is home to many unique personalities and emergency situations.

Jack Travis, trauma doctor at Alamo Grace, gives of himself and his time freely helping others and doing things his way.

Trauma chaplain Riley Hale is looking to prove to herself and others at Alamo Grace that she has what it takes to step up to the challenge of triage nurse. When a new opportunity presents itself to her, to help in ways she never knew were possible, her goals took on a new direction.
Bandy spreading smiles and sunshine, has a laidback way of looking at the world. He and his dog Hobo, volunteer where they are needed.

These characters along with many more add to the charm of the story.

Can trust issues be overcome, and can fear be tackled without leaving a scar?

This is the first book I have had to opportunity to read by Mrs Calvert, and I can honestly say it won't be the last. Reminiscent of ER this medical style fictional drama with it's personable and memorable characters the reader can relate and attach to, is a real page turner and extremely hard to put down. I quickly became lost in this book which is peppered with action, romance, heartbreak and some laugh aloud moments promising many enjoyable reading hours. Dialogue and scenery seemed realistic, plot flowed smoothly and character development was strong. I was entertained and challenged in my faith. I would highly recommend this book to others. I received this complimentary copy from Tyndale Publishers for my review.