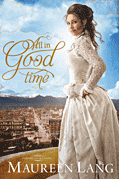 Does the heart judge what the eyes cannot see?
Henry Hawkins had a questionable career in his younger days. His current position as a banker has him thinking much on the outcome of his future, a pale existance of a life in need of revamping.
Dessa Caldwell is in search of a loan to benefit Pierson House, a home for women, is keenly aware of the many obstacles that would deter her from her plans.
When she applies for a loan at Henry's bank their initial meeting is less than memorable.
A shared secret, a desire for success and the constant ache of the heart bring two unlikely people together for one important mission. Will fortune be gained in time or will an obstacle prove to be a consequence?
Hope, Romance and Fate collide together to form an easy flowing novel just right for a reader yearning for a lite romance with a bit of suspense. Characters were well developed, scenery was fitting and realistic for the storyline and plot offered very few dull and dragging parts. Although part of a series All in Good Time can be read as a stand alone book. I was entertained by this faith challenging and inspiring book and would recommend it to others. 4 Stars.
I received a complimentary copy from Tyndale House Publishers for my review.
Maureen Lang
Maureen Lang is the award-winning author of more than ten novels. She's always had a passion for writing, particularly stories that combine romance and history. After writing for the general market for several years, she wrote her debut inspirational novel, Pieces of Silver, which was a Christy Award finalist in the historical category. She has since written seven novels, including a recent trilogy of romances set against the dramatic backdrop of WWI—Look to the East, Whisper on the Wind, and Springtime of the Spirit. She turns to more peaceful (though no less dramatic) times in Bees in the Butterfly Garden, her upcoming release set among Fifth Avenue's finest during the Gilded Age of New York.
In addition to critical acclaim, Maureen's writing has garnered numerous industry honors. She has won the Romance Writers of America Golden Heart award, the Inspirational Reader's Choice Contest, and a Holt Medallion, and has been a finalist for Romance Writers of America's Rita, the American Christian Fiction Writers' Carol awards, and the Gayle Wilson Award of Excellence. Visit her online at www.maureenlang.com.